Our goal – Mission Statement
To provide the finest real estate service in Australia based on the highest standard of ethics, values and client care. In so doing, we will earn the loyalty and trust of home sellers and homebuyers who will become our lifelong clients and friends as we always place their interests ahead of our own.
Our goal is to obtain the maximum possible price and achieve a sale in the shortest possible time for you.
We believes that the Cosy Estate Quest method of real estate success = Ability X Effort X Attitude. Why are the three factors in our formula multiplied rather than added? Because multiplied together, positive attitude and passionate effort assume a much higher level of importance. We believe this is reality. Customer satisfaction is my first priority. It is our philosophy!

KOJI HOSOKAWA DIRECTOR / LICENSEE
Company Info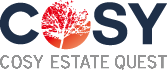 | | |
| --- | --- |
| Company Name : | COSY ESTATE QUEST PTY LTD |
| ABN : | 86.169.936.181 |
| Postal Address : | PO. BOX 187, Mt. HAWTHORN WA. 6915 |
| Tel : | +61 8 9440 6821 FAX: +61 8 6162 9807 |
| Mobile : | +61-417-273-739(Koji Hosokawa) |
| E-Mail : | info@cosyeq.com.au |
| English Web : | http://www.cosyestatequest.com.au |
| Japanese Web : | http://www.cosyeq.com.au |